By John-Andrew McNeish and Mikaela Vasstrøm Also posted in PRIO blog May4, 2021.
"I have seen this film before, and I didn't like the ending".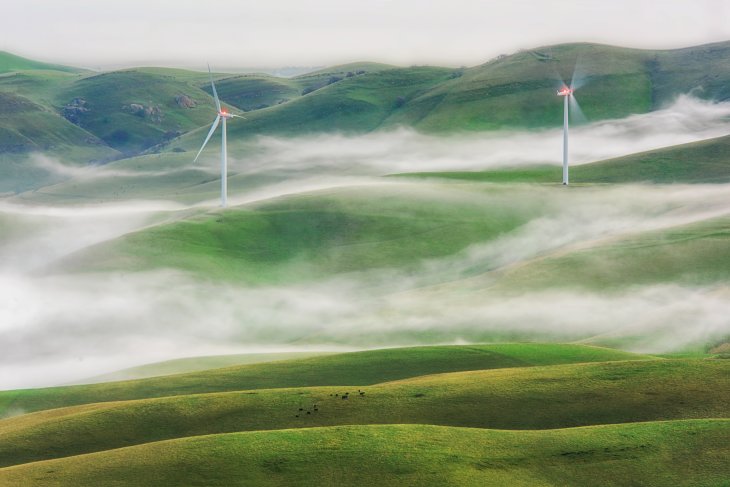 Surely these words have nothing to do with government commitments to the adoption of bright green technologies and the sustainable development goals made in the run up to COP 26. Surely green energy development is all new and wonderful, a way to avoid the damaging linkages between fossil fuel and rising greenhouse gases. Surely, green transition is also a way to end the violence done to the earth and vulnerable societies by mining, oil and gas extraction and related infrastructure projects. These are practices that not only result in vast disturbances caused by earth removal but the leakage of vast amounts of contaminants into the soil, air and waters of our planet. They are also result in the sacrifice of human populations. Fossil fuel industries can be linked to histories of labor exploitation, land dispossession, the erasure of cultures and languages, war, organized crime and corruption, and assassination. All of these features of the history of fossil fuel industries are as well documented as the prosperity and innovation they have also generated. Surely, green transition represents an opportunity to leave the ugly features of this past behind and renew the positive outcomes of business and technology as a path to sustainable development.There is mounting evidence that many features of the plot of new energy development have been seen before in capitalist development.
There is mounting evidence that many features of the plot of new energy development have been seen before in capitalist development
It is now dawning on the research and development community that things are not so simple. Indeed, there is mounting evidence that many features of the plot of new energy development have been seen before in capitalist development. There is also ground for argument that green energy development might not only replicate old patterns, but add to those formed by the foundations, structures and imaginaries of the fossil fuel industries. It is with this awareness that we as a group of researchers are currently involved in three specific initiatives: a PhD course set up to explore Renewable Energy Development and its Contestation at the Norwegian University of Life Sciences (June 2021) and the research projects WINDPLAN and Green Curses and Violent Conflicts (2020-2023) – all funded by the Norwegian Research Council. All of these initiatives seek to research the patterns and causes of socio-environmental conflict that are now evidently surrounding renewable development projects across the globe.
Our teaching and research lays bare the facts that green energy development – and with it your electric car, wind turbines and solar panels and other new technologies – requires the destructive extraction of materials and minerals across landscapes and eco-systems. Indeed, rather than leading in the direction of a reduction of climate and environmentally damaging impacts, the volume of damaging extraction and land use-change is rising. This includes the mining and processing of widening set of materials including rare earths with similar, if not the same, techniques used in hydrocarbons extraction. Despite the common use of the word "green" to describe the renewable energy transition , these resources are not renewable.
Our research focuses directly in on the social impacts at both ends of the global value chain of this new drive to extract minerals. We see energy development as a political and cultural field. Our research looks to study the dynamics of energy development in Africa, South America and Norway and Europe. As such, it needs to tease apart complex dynamics in which green energy development represents great opportunity for economic development and job creation, but in common with earlier hydrocarbon energy development also represents a threat to local livelihoods, environments and human physical well-being. We are particularly concerned with understanding the forces at work in driving current protest and contestation in opposition to renewable energy development e.g. against the installation of wind turbines in Norway, against hydro-electric dams in Uganda, and against lithium mining in Chile and Bolivia.If green energy development is so good, why do people see it is a threat and not opportunity?
If green energy development is so good, why do people see it is a threat and not opportunity?
A key question we ask is: if green energy development is so good, why do people see it is a threat and not opportunity? In looking to answer this question we are studying the governance implications of renewable energy development at different scales: the impacts on geo-politics, regional politics, land ownership patterns and the impacts on national and local law and environmental regulation. Importantly, we also recognize that energy transitions are influenced by socio-cultural understandings and ideals. We recognize that there is a need to understand the underlying socio-political and cultural factors of emerging socio-technical conflicts. In line with other colleagues, we suggest that the social sciences and humanities can provide vital critical analyses of the relationship between energy and society as co-constituted material and social conditions and practices.
It is already evident for those of us with a history of research on non-renewables and resource governance that the recent drive for green energy development is a story we have at least in large part seen before. As such, there a real danger of similar impacts of past energy developments. Not all hope is out, though, in changing this plot line. By generating more awareness of the persisting injustices of green energy development there is an opportunity to also form a better platform for energy justice. Although the international community still interprets energy justice as combating poor energy provision or poverty through heightened levels of provision and access, we emphasis a need for energy justice to take account and address the imbalances, impacts and contestations evident in the small spaces of our global research. As such we are interested to not only consider the actions of governments and international organizations at climate summits, the myriad of social movements and civil society organizations who are not only imagining a better future but putting it into place through diverse and multi-scalar practices.
Energy Ethics is also a related field of enquiry that has potential for rethinking the practical requirements of energy justice. Energy development has been an issue of moral concern throughout human history, and certainly in relation to major energy related development such as atomic power in the 20th century. In the context of the current shift towards green energy development, these moral judgements are being rethought and retasked to address the urgent question of how to balance our energy demands with the anthropogenic climate change. On the basis of our research, we acknowledge that energy ethics has significance for energy justice and especially if it addresses head-on the concrete and repeating impacts and imbalances we observe.
There might not be a Hollywood ending-all development causes winners and losers, but these changes to the plot line might positively lead to some new and necessary historical storylines for people and planet.